The holiday season can be the happiest time of the year. It can also be one of the most stressful. So if gift wrapping and cooking have you stressed out and you need to get away from it all this winter, it might be time to book your next trip. For the budget-conscious traveler, there are plenty of options awaiting you. Whether you're looking for an escape to a Christmas-filled winter wonderland or you'd rather find a beach where you can forget your cares, we're here to help you narrow down destinations for that affordable wintertime getaway before the steals and deals are gone. Read on to find if you need to pack a sweater or a swimsuit as we explore 6 inexpensive places to travel to this winter.
1. Hawaii, USA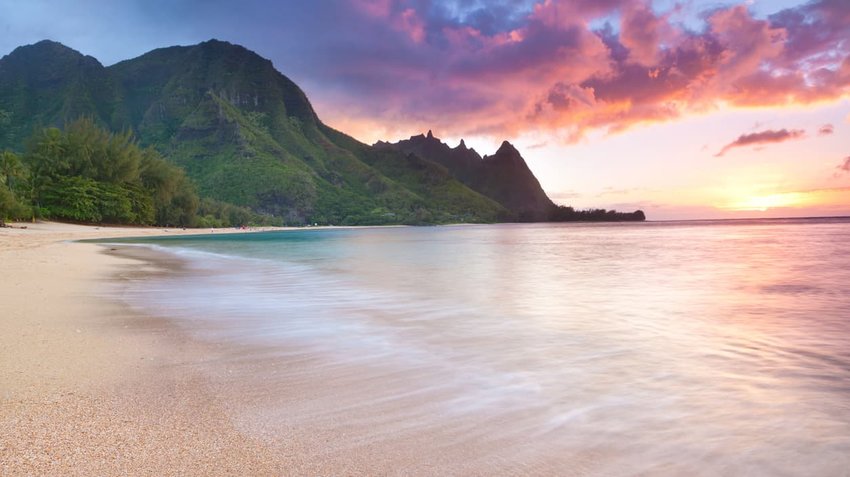 Kauai-tunnels Beach in Hawaii at sunset
Admit it, the minute the temperatures started to drop you started dreaming of long walks on palm-fringed sandy beaches, bathed in sunshine. Luckily, for Hawaii, that dream is a reality nearly year-round, even in the winter. A relaxing vacation to the Aloha State can leave enough cash in your wallet to enjoy all that these tropical islands have to offer.
February will be your cheapest travel month this winter, with round-trips from the West Coast for under $300 and around $500 from New York. If your travel dates are flexible, flash deals are always popping up. To save on stays, avoid crazy-expensive resorts and opt for a B&B, rental or inn instead. Oahu is the cheapest island to visit because of the variety of hotels, but the crowded spots like Waikiki Beach can ruin a fabulous vacation. So, be open to smaller hotels on less touristy islands like Kauai. If you are in Maui during January or February, head out on a whale-watching cruise and enjoy the warm winter weather. Aloha!
2. Costa Rica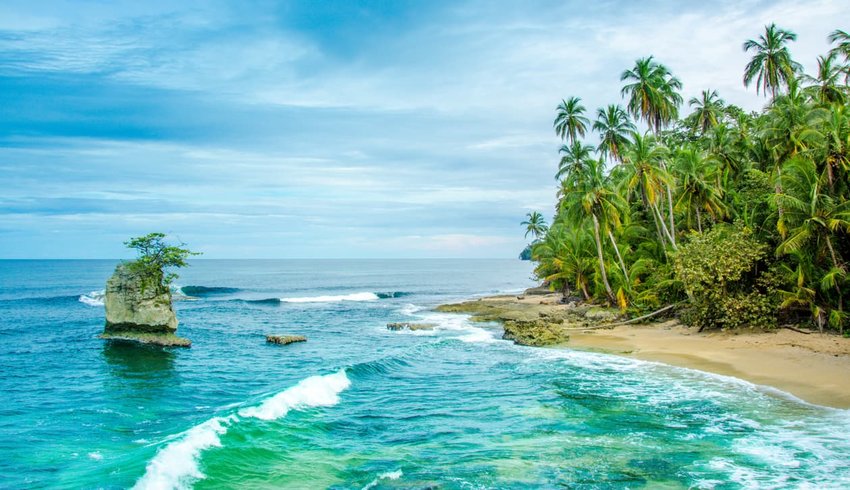 Wild caribbean beach of Costa Rica - Manzanillo
Do you want to beat the winter blues with an affordable tropical getaway? Grab your sunscreen and book a flight to Costa Rica. By December, Costa Rica's summer season is just getting into high gear and you can explore miles of beaches for a great vacation. Winter is also peak time for seeing the baby sea turtles hatch, as well as whale watching and surfing. Getting to this patch of paradise is easy with two international airports accommodating daily flights to Costa Rica. The best time to visit Costa Rica is the dry season, which runs from mid-December to April, but it is also the high season and a bit more expensive. Don't worry, even in peak season, your dollar will go a long way because airfare ($400 from Newark) and lodging ($45 in San Jose) is super cheap. Make Costa Rica your perfect tropical winter destination and you will not be disappointed, or broke.
3. Berlin, Germany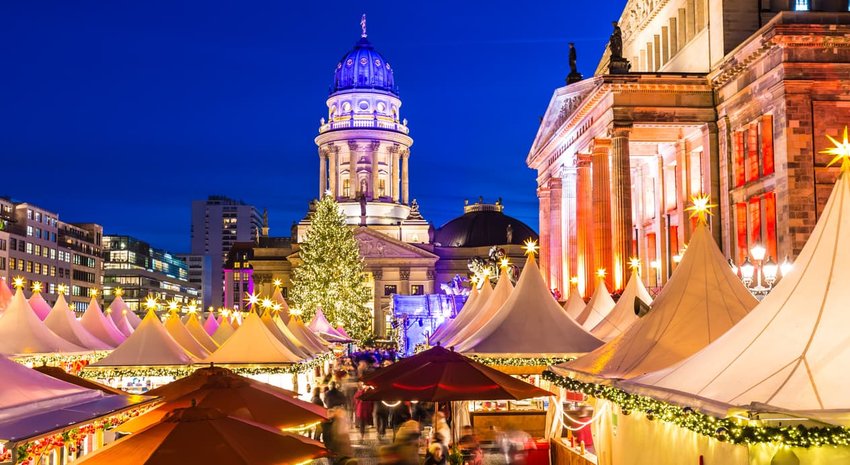 Christmas Market in Berlin
If you want to enjoy all some German charm this winter, Berlin has it all. Winter is a cheap time to travel, and much less crowded than the summer. On top of that, you can explore old-world Christmas shopping, world-famous skiing, and Berlin's world-class art scene with hip art galleries, boutiques, and museums, all at discount prices. Airfare to Berlin is very affordable (except around the Christmas holidays) and you can fly from New York or LA for under $500. Hotels are also less expensive, with four-star hotels in the heart of Berlin averaging $100 per night. A fun winter activity is the city's famous film festival, Berlinale, which is held each February.
4. Las Vegas, Nevada, USA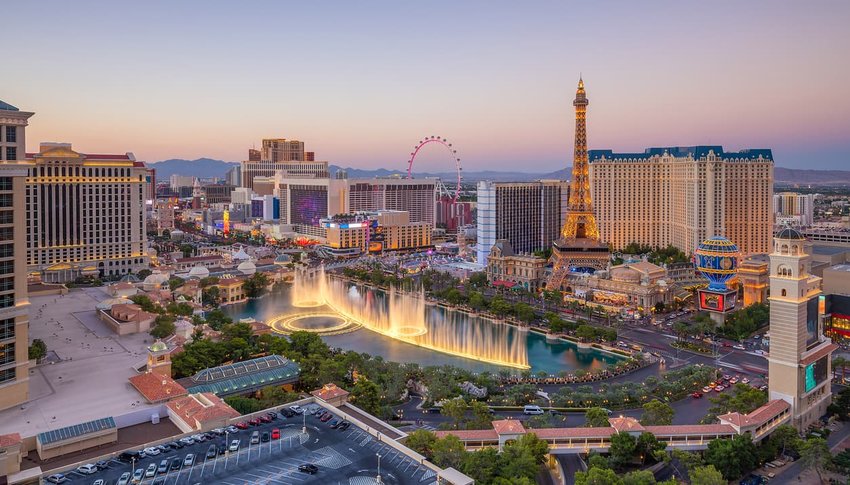 Aerial view of Las Vegas strip in Nevada
Believe it or not, Las Vegas has become one of the highest rated warm-weather winter destinations in the world. It has also stepped up its game when it comes to celebrating Christmas, with unbelievable displays at the Fremont Street Experience and at the major casinos. Another plus is that Vegas has started catering to families with kid-friendly entertainment and events. You won't find a much cheaper winter getaway than Sin City with flights from New York starting around $200 and getting here from LA is an amazing $80 roundtrip. Casino hotels cater to tourists by offering cheap lodging in hopes that you will visit their slot machines during your stay. In fact, you can get a room at the Luxor in February for $80 a night. The weather is also amazing with average winter highs around a comfortable 60 degrees with loads of sunshine.
5. Curaçao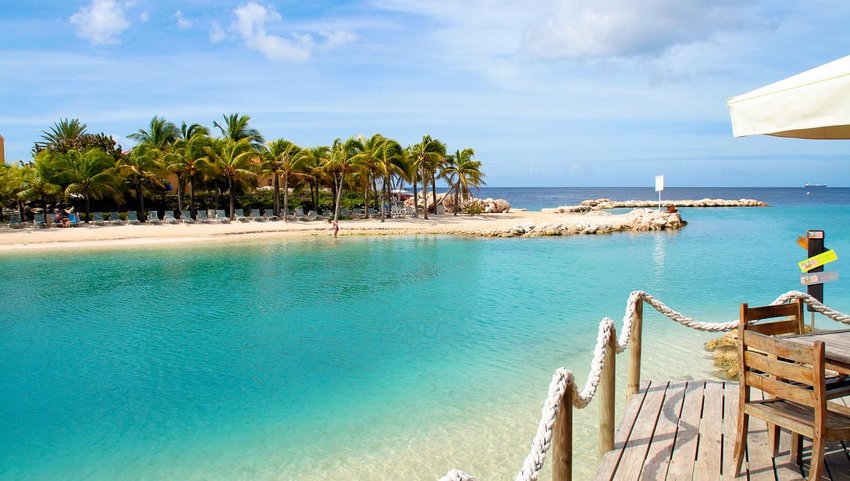 Clear water and palm trees on Mambo Beach, Curacao
If you're looking for an affordable and incredible vacation spot this winter, look no further than Curaçao! This little-known Dutch Caribbean island is a winter getaway safely tucked off the Venezuelan coast and out of the way of most hurricanes. Curaçao has become a go-to Caribbean hotspot for Americans because it is so easy to get to and English is one of their official languages. Willemstad, its capital city, rests on a bay and is surrounded by swimmer-friendly coral reefs. You can snag a round-trip flight from New York after Christmas for around $300, while things get pricier from the West Coast coming in at around $500. You can find a wide variety of hotel options. A room on the beach goes for around $100 but if you head inland a couple of blocks there are plenty of rooms that can be had for around $50. This tropical winter retreat is sure to put a smile on your face.
6. Greece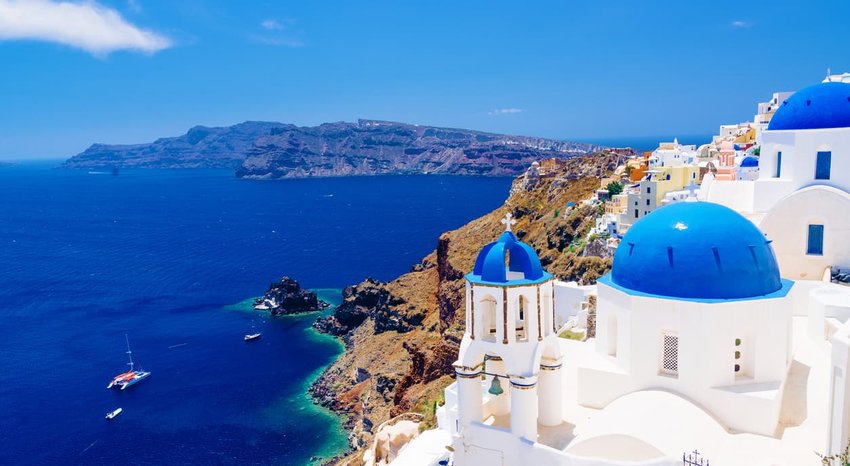 White architecture and famous little churches with blue domes
If you want to surround yourself with history and perfect weather in the winter, then why not pack your bags for a fun and relaxing trip to Greece. This vacation hot-spot is affordable and much less crowded than the summer. The weather is perfect for strolling down historic ancient streets hinting for keepsakes and experiencing amazing food. Many of the Greek Islands like Santorini are still accessible in the winter even though some of the smaller hotels and restaurants close for the off-season. The hotels that do stay open are very cheap and the open cafés are where the locals dine, so you are guaranteed some good eats. During the winter domestic and international airfares are also much cheaper. You can fly roundtrip to Athens from either coast for under $600 from mid-January through February. Domestic flights to the islands from Athens are also a great bargain. What more can we say than "Opa"!
For more awesome travel stories and tips from The Discoverer, visit https://blog.thediscoverer.com/